Below is a short biography on all of the DRC members both past and present.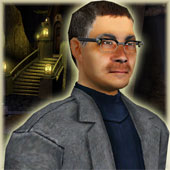 Born on October 5th, 1957, Ikuro Kodama has a Bachelor of Arts in Mechanical Engineering Technology from New Mexico along with a Tech Doctorate in Geology from the University of Southren California. He was a friend of Dr. Richard Watson's from their time together in the teaching profession when he was invited to D'ni in 1994 before joining the DRC from 1997 to 2004. In 2004 he was also co-leader of the DRC after Dr. Watson left. Kodama returned to D'ni in 2006 when funding was secured and retook his position on the DRC as well as his old duty of overseeing Phases One and Two. His work was interrupted with the sudden resignation of Cate Alexander. He returned to the surface to look for funds to continue the Restoration.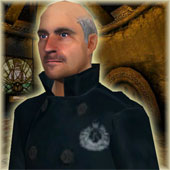 Victor Laxman
Born on June 14th, 1958, Victor Laxman received multiple Engineering Degrees from the University of Cambridge before joining the Royal Navy from 1978 to 1990. Victor first learned of the restoration efforts from Dr. Watson in early 1995 before joining the DRC from 1997 to 2004. After Dr. Watson left the DRC in 2004 he became co-leader of the DRC until it disbanded due to a lack of funding. In December of 2005 Victor Laxman first approached the other DRC members about restarting the restoration efforts and joined the DRC once more in 2006.
Unlike the other DRC members, Victor doesn't oversee any particular phase but is instead in charge of all aspects of restoring D'ni technology. In particular, Victor is responsible for translating D'ni technology to English and making it work with human technology. He also led successfully a joint-effort with explorers to re-calibrate the Great Zero. He also oversees explorer's recent effort to re-establish the daily light cycle generated by the lake algae which was interrupted due to the Fall of D'ni. In early November he departed with his colleagues to the surface to look for other funding sources.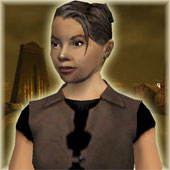 Dr. Marie Sutherland
Born on March 12th, 1962, Marie Sutherland received a Doctorate in Anthropology from Southern Illinois University before entering the teaching profession. While in this profession she met Dr. Richard Watson and first joined an expedition to D'ni in 1993 before becoming a founding member of the DRC from 1997 to 2004. In 2006, when the DRC returned to D'ni, Marie retook her old position in the DRC. As part of her duties with the DRC Marie is responsible for Phases Three and Five. She is also known to at times differ with Cate, particularly her reluctance to allow advertisements in the Cavern. After Cate's resignation, she too departed for the surface to search for other Restoration funding sources.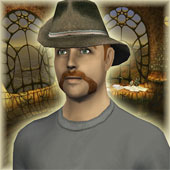 Douglas Sharper was one of the first people to come to D'ni who was not associated with the DRC. He had a major role in the restoration effort which included being given control of Teledahn as well as some city structures. However despite having official sanction to work on restoring D'ni, Sharper often went behind the DRC's back and hid books, secretly gained access to closed off areas and held protests against the DRC. He also went on Yeesha's journey with Phil Henderson before any other restoration engineer or DRC member had. Because he so often went against the DRC, he eventually lost access to the city structures he had been given.
When the DRC abandoned their restoration efforts he stayed behind in D'ni and remained largely silent since the resumption of restoration in 2006, until March 2007 when Cate summoned him to investigate the apparent decimation of animals in Negilahn. In late May he witnessed a battle between different Bahro factions, and has also vowed to avenge the untimely death of Willow Engberg on the Bahro. He admitted to killing a "good" Bahro while being attacked by an "evil" Bahro faction. He was the first to alert explorers to the false sense of security in the Cavern because they were unknowingly being protected by "good" Bahro against "evil" ones bent on destruction. On November 6, 2007 he also departed for the surface.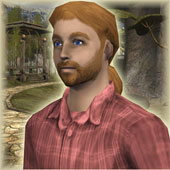 Phil Henderson was a restoration engineer who was once in charge of restoring Eder Kemo. However, he went missing in 2003 through the journey door located in the Age and wasn't seen for a full year. Upon returning, Phil Henderson spoke with people about the teachings of Yeesha despite growing tension between himself and the DRC. Claiming to be concerned for Phil's safety, the DRC eventually locked him up in their Bevin's "Egg Room" for a few days until they released him. Upon being released, Phil went to an area near the Guild Hall on Ae'gura despite the fact the area was closed off and deemed unsafe. As a result, the wall he was on collapsed and he was presumed dead. Yet he surprised explorers when he suddenly returned to the Cavern on August 3rd, 2007, and reported that the Bahro took him to many places, and expanded his understanding. He was the first to definitively confirm Sharper's concerns that the good Bahro were protecting the Cavern from the coming destruction. He continues to warn explorers of coming destruction and to listen to Watson and Yeesha.
Other Characters
Below is a short biography on all of the important characters from Myst Online: Uru Live, including those only present in its back story.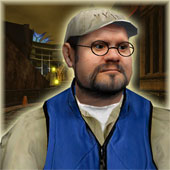 Dr. Richard A. Watson
Born on June 8th, 1961, Richard Watson received a Doctorate in History from the University of Utah before being invited to D'ni by his good friend Elias Zandi. When Elias Zandi died in 1996 Dr. Watson became the sole chairman of the D'ni Restoration Foundation and decided to create the DRC one year later instead to help with the responsibility. While a member of the DRC, Dr. Watson wasn't responsible for any particular phase but instead helped out in a variety of areas. However, this came to a halt when he abruptly left the DRC following Phil Henderson's apparent death. Unable to cope with Phil's death, Dr. Watson went on Yeesha's Quest and was not heard from, until Michael Engberg came to find him, and he returned, surprising all on September 11th, 2007. He confirmed that the "good" Bahro have created a "grand deception" that things are okay when in fact, destruction was headed their way. He stressed collaboration and unity in re-building the guilds as the D'ni did, and has refused to rejoin the DRC citing differences in philosophy. He is presently enlisting support from explorer groups for Restoration projects that engage his interest.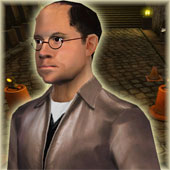 Michael Engberg
Born on September 9th, 1966, Michael Engberg has a Masters of Building Science which he obtained from the University of Southern California before he came to D'ni. He initially came in 1998 before joining the DRC from 1999 to 2004. From 2004 to 2006 he had a teaching position before returning to D'ni once more with his daughter Willow. As part of his duties in the DRC, he was in charge of the Restoration Phase Four for all structures. The untimely death of Willow, his only remaining daughter in late May 2007 overwhelmed him and caused him to disappear from the Cavern. He remained MIA until his sudden return on September 10th, 2007, and has kept silent on his future plans, including whether or not he will return to the Council.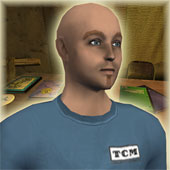 Nick was once a Restoration Engineer who translated documents from D'ni and into English. He started translating documents from Teledahn immediately after learning D'ni in 1998. During 2000 he also translated some documents from Rebek before being pulled off it. When the DRC returned in 2006 Nick White also returned; however, he makes frequent trips to the surface. Around December, 2006, Nick White was working on two Ages with Dr. Kodama, one of which is still unnamed.
On May 3rd, 2007, Nick's employment with the DRC was terminated. The reasons given for this action included poor job performance, "fraternization" with explorers, and leaking confidential DRC information in violation of the terms of his probation for previous violations of DRC policy. Since his termination, Nick continues to appear in the Cavern, sharing rumors he hears from other Restoration Engineers, many of whom still remain his friends, and accompanying Douglas Sharper on his expeditions. Nick remains calm and undaunted by the prophetic warnings of pending destruction.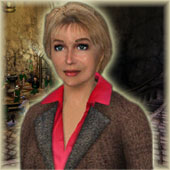 Cate Alexander
Cate Alexander began securing funding for the DRC sometime after 2004 when they had to cancel the restoration efforts. She played a role in getting Turner to fund the restoration and has also contributed to the DRC's funds, herself. Her role with the DRC became even more more prominent when she announced in late June 2007 that she was elected to the Council to replace Michael Engberg, and that she also had a tie-breaker vote. Unlike the other DRC members, she is eager for new areas to be opened up quickly and so she pressures the DRC to open them faster. Her recent proposal to allow advertisements in the Cavern to alleviate funding issues has attracted much attention and controversy. She further surprised the community with her sudden resignation and departure on November 1st, 2007, and with it her financial backing for the Restoration.
Elias Zandi was a wealthy and eccentric archaeologist who often paid large sums of money for particular artifacts that he claimed were connected to him somehow. John Loftin came to Zandi one time claiming to have discovered ancient machines beneath the surface of the Earth and on the 19th of March, 1988 they travelled to the tunnels that led to D'ni.
Elias immediately began buying the land around the area of the tunnels and after another expedition with just Fighting Branch, he contacted his colleague Dr. Watson to join him in on an expedition. During a later expedition in 1992 Elias revealed his desire to restore the city and populate it with people who called themselves D'ni. Elias became consumed with the restoration efforts and ignored his health until he died due to a massive heart attack in 1996. He left his wealth to the D'ni Restoration Foundation but left the land land to his estranged son, Jeff.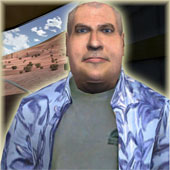 Jeff Zandi
The son of Elias Zandi, Jeff became an ally of Yeesha in gaining explorers to her cause. Most of the time he can be found in the Cleft in front of his trailer
John Loftin discovered the D'ni digging machines in 1987 while searching for artifacts to sell to Elias Zandi. He went on several expeditions to D'ni with Elias Zandi and Richard Watson in the following years until he died during one of them in 1991.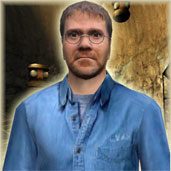 Rand Miller
Born January 17, 1959, in Pennsylvania, USA, Rand and his brother Robyn Miller co-founded Cyan, now Cyan Worlds, Inc. Cyan became famous from the unexpected success of their computer game Myst, which remained the number one-selling game for the remainder of the 1990s. Rand also worked on the game's sequel, Riven, and later realMyst and Uru: Ages Beyond Myst.
Still CEO, he is now less involved with working out storyline, gameplay and programming, instead focusing on managing the projects his company works on. As a sideline, you will find him portraying Atrus in the Myst sequels, some of which were created by other companies, including: Myst III: Exile (by Presto Studios), Myst IV: Revelation and Myst V: End of Ages (both by Ubisoft Montreal). However, he claims that he dislikes this job, and feels he is the wrong person to do it.
Relteltee is an explorer who was interviewed by the DRC and afterwards appointed as their Guilds Advisor. Reteltee does not vote with the Council, but is one who does independent research on the D'ni guild system before reporting to the Council and the explorers. While he tries to disclose as much information as possible on official movements, his reluctance to separate facts from personal interpretations regarding the D'ni Guild system have not satisfied explorers who desire the DRC to be more open in their decision-making.
J.D. Barnes is an anthropologist who recently entered the Restoration effort as an independent researcher and has collaborated with the DRC on several occasions. He did his graduate work at Oregon State at Corvallis and earned a Master's Degree in Applied Anthropology. He is involved in several projects, including production of a documentary, and has recently asked explorers for help in authenticating old documents from a surface dweller who may have visited D'ni long before the Zandis did.
Willow Engberg, nicknamed Wheely, is the daughter of DRC member Michael Engberg who was homeschooled in 2007 in D'ni. She liked to climb and explore the various Ages and was seen occasionally talking with players. In late May 2007 she and her friend Rose were trapped underneath a structural failure at the Kahlo Pub. Rescuers tried to reach her, but in vain. The DRC later revealed that her death was due to an enemy Bahro and not the rock fall.
Rosette Taylor, nicknamed Rose, was a close friend of Willow Engberg. She was a brand new explorer, and loved to roam the different Ages together with her friend. In late May 2007 a few explorers briefly met Rose with her friend Willow, shortly before the two of them were trapped underneath a structural collapse at the Kahlo Pub, where Rose was believed to have died instantly.
Brian Fioca was described by Douglas Sharper as "an eventual leader" of the explorer community in one of his November 2003 journal entries. Sharper praised him as one of those who "see right through" the DRC during its early stages. He also is the administrator of The Great Tree forum, another fan community which existed during the Uru Live Prologue. He recently completed his Bachelor of Science degree in Computer Science in Seattle, Washington.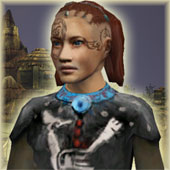 Yeesha was born almost 200 years ago to Atrus and Catherine, the main characters in the Myst series. Currently, one of her journeys is accessible in Myst Online: Uru Live; however, she made two others that have been released in the earlier games with a fourth one that was played out in real life. She made her first live appearance along with many Bahro on November 5th, 2007. There she confirmed that "destruction is coming," identified the enemy Bahro leader, promised to draw the Bahro War away from the Cavern, and challenged all to "find a way...make a home."
The Bahro are a race of creatures who have the natural ability to link at will. They were servants to the D'ni for thousands of years, and presumably gave the D'ni the ability to link to other Ages. Since explorers freed the Bahro from the power of the Tablet, the Bahro have now become free to make their own choices. Unfortunately, some of them have chosen revenge for revenge's sake, and are therefore bent on destruction of even innocent life. Yet according to Yeesha, most Bahro are friendly and have protected explorers the life in the other Ages, and even the D'ni from destruction, even to the point of sacrificing their lives.
---

Portions of this Guide reproduced with the kind permission of John Lynch. 2007. New material is written by schlomo.
Photographs by Rex_Havoc, J'iim and other sources.


© 2006 Guild of Greeters All Rights Reserved. Reproduction of this web site, in whole or in part, in any form or medium without express written permission from The Guild of Greeters is prohibited. All Myst, Riven, D'ni, Uru images, text, sound and music © Cyan Worlds, Inc. All rights reserved Myst®, Riven®, D'ni® Uru®, respective Logos® Cyan Worlds, Inc. No part may be copied or reproduced without express, written permission of Cyan Worlds, Inc.